About Bryant Powell
---
Bryant Powell is a dynamic songwriter and power tenor vocalist hailing from Phoenix, Arizona. Since the start of his toplining journey in 2016, he's continued to make a name for himself. Bryant is operactically trained and brings a new spin to electronic music through his ability to create soaring melodies. For his unique sound, Bryant blends his operatic vocal background with an exciting rock vibrato and thereby continues to stand out. His signature sound takes influence from bands like Radiohead, Foals and Muse, but he also looks to acts like Kendrick Lamar and Aesop Rock for songwriting inspiration.
---
---

Over the years, Bryant has made it a priority to refine his vocal and his production skills. He continues to grow his catalog, which currently holds over 300 different songs. Shining on impressive releases with powerhouse DJs such as Blasterjaxx, Sub Zero Project and Corey James, and amassing a total of 8 million streams, Bryant is here to stay. He also loves collaborating with his friends - a passion that has led him to enjoy great success as a co-writer. Bryant holds writing credits on songs like KAAZE's "Better Than This" feat. Chad Kowal, adding up to an additional 4 million streams across all platforms.Next to his topline work, Bryant has gained a lot of stage experience as front man of different indie rock bands - and even opened the stage for The Chainsmokers once. Now the time has come for a new solo project - find out all about it here. Dive deep into a world defined by the presence of color and sound during Bryant's immersive live shows. A completely different take on dance music, but driven by the same high vibrational energy and autheticity.Now the question is, are you ready to live?
---
---
---
---
Here's a full collection of the amazing releases Bryant got to be a part of in the past:
---
---
CUSTOM TOPLINES
---
Are you looking for a custom vocal for your instrumental track?
Let's talk! I would love to be part of your next project.For all custom toplines, my goal is to work closely together with you in order to craft a vocal topline that has everything you're looking for. I'm happy to incorporate all sorts of feedback or ideas you might have during the writing process.For more information, feel free to schedule a meeting with me here or reach out to me via the inquiry form!

INQUIRIES
---
Get in touch with me here regarding all things custom vocals.
If you already have an idea in mind, please feel free to include a link to your instrumental or any reference tracks in your email.
Let's make some bangers together!
AVAILABLE TOPLINES
---
These are a few of my favorite toplines I currently have available. I update the playlist on a regular basis since I constantly write new songs. So feel free to have a listen, browse through them and check back every once in a while for new stuff.If you're interested in using one of these vocals for your next track, please reach out to me here . No worries if you didn't find the right one here - I'm happy to write a custom topline for you too! Either way, I would love to be part of your next project.Let's shine together!
WANT MORE VOCALS?
---
Would you like a private SoundCloud link to all my available demos? Trust me, there's a lot! I have vocal toplines ready to go in a variety of keys and bpm ranges. If you want to browse through my full catalog, all you need to do is enter your details below and I'll make sure to send you the link right away.Are you looking for something specific or would you like me to write a custom vocal to your instrumental? Let's schedule a call and talk !
RELEASES
---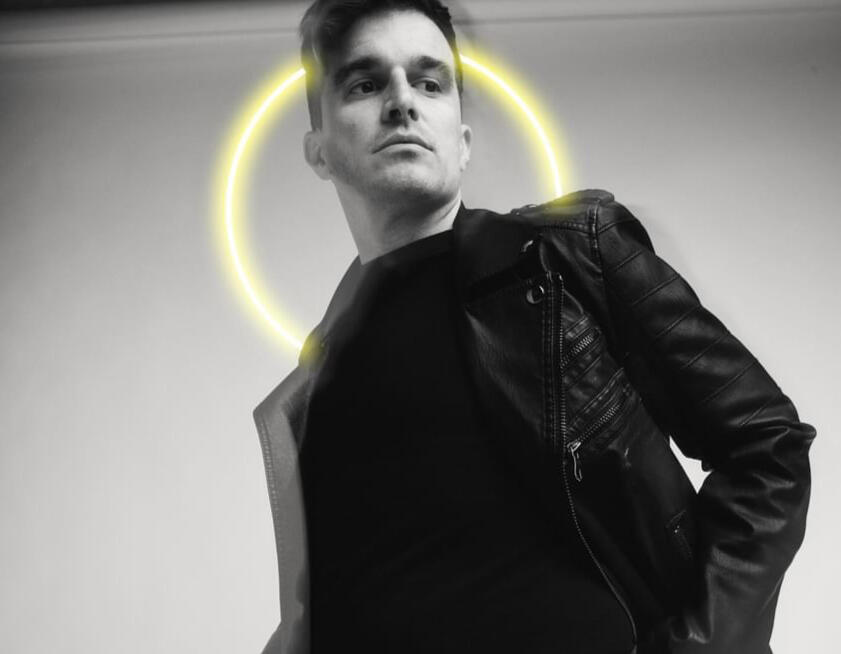 Bryant has released tracks in collaboration with powerhouse DJs and producers such as Blasterjaxx, Sub Zero Project, Corey James and David Pietras, Fader X and Zheno, just to mention a few. Across all platforms, Bryant's collaborations are currently amassing over 6 million total streams and counting.His songs continue to be supported by some of the industry's most renowned record labels like Protocol Recordings, Spinnin' Records, Maxximize Records, Revealed Radar, Dirty Workz, Scantraxx, Future House Music and BIP Records.
---
Here's a full collection of the amazing releases Bryant got to be a part of in the past:
As a true performer, Bryant also loves to play shows and perform live for an audience. He knows how to read the crowd and give them one unforgettable show, whether that's with his band EL WEST or as a dance music vocalist. Always bring the same energy as the people in the room and you can't lose!
EL WEST
---
Hailing from the desert of Phoenix, Arizona, EL WEST creates a soundscape with ambient, yet driving instrumentals, and powerful operatic vocals. The band consists of Bryant Powell (Vocals/Guitar), Thomas Brenneman (Guitar), Ricky Powell (Bass), and Marty Welker (Drums). Soaring highs and heartfelt lows allow listeners to emotionally and visually connect to the music. A powerful rhythm section allows the subtle melodies to build into powerful crescendos like a wave of sound crashing over you.Their local success led them to being chosen to open up for Capital Cities, Leon Bridges, GROUPLOVE, and The Chainsmokers at March Madness Music Festival 2017. With two releases under their belt, and a third on the way, EL WEST has turned heads across the industry.
---
The new EP, titled "Illume", lives up to its name. Illume engulfs the room with light from start to finish and encapsulates a unique anthemic sound that delivers driving instrumentals and powerful operatic vocals. EL WEST's big sound has staying power and with Illume, delivers their energetic and remarkable stage show all in one EP.
---
DOWNLOAD THE EL WEST EPK HERE:
Contact
---
I'm always open to collaborations - so if you have a cool project in mind, feel free to reach out to me at any time. I want to be a part of it!

You can use the contact form here for all business inquiries, or just send me a DM on my socials. Always down to chat!
---
FINDING THE RIGHT VOCALS CAN BE QUITE THE HASSLE.
LET ME CHANGE THAT FOR YOU.
---
---
Let's be honest: Having to chase people down for bad quality vocals is a waste of your time. I don't want you to get stuck in a situation like that ever again.Instead, I hope to see you get creative with your music. Working out of my own home studio in Bird City... well, Phoenix, AZ... allows me to guarantee you a quick turnaround time. Just let me know if you're looking to hear some of my available vocals or if you're interested in a custom topline for your instrumental.All my toplines are professionally recorded and come to you as industry-standard WAV files. Just put them right in your DAW - no more chasing, because your time is precious to me.- Bry
---
HELP ME GET TO KNOW YOU AND YOUR MUSIC.
---
---
For a moment, let go of all the pressure society puts on you and allow yourself to just be. Bryant Powell is an alt-dance artist ready to take you on that journey. He grew up playing in different indie rock bands and eventually ventured into the world of dance music as a topliner. Over the years, Bryant has worked successfully with some of the world's most renowned DJs and producers.But now the time has come for a project that allows him to fully express himself creatively. Bryant's new signature sound as a solo artist takes influence from acts like RÜFÜS DU SOL, Elderbrook and Bob Moses, all while retaining that captivating rock vibrato and his operatic vocal background that make his voice so unique.
---
---
IT'S LIKE A SOUND THAT DANCES AND STANDS STILL.
Bryant's immersive live sound is the key to his music. His songs tell stories of resilience through times of adversity, but what truly brings them to life are the moments in which his audience fully experiences the music. Dive into a world defined by the presence of color and sound - Bryant's live rig consists of three microphones, an electric guitar and a special midi controller, ready to light up the stage. It is a completely different approach to dance music, driven by that special energy of a live show.Bryant is a true performer and knows how to make every show a special experience through authenticity and character. No matter who you are and where you are in life, you will find something to relate to in his journey. Through his songs and his performances, Bryant aims to give you that same high vibrational energy he felt during a trip to Mykonos, Greece where he understood the true beauty of dance music. It's a sound that dances and stands still - and it is for everyone to enjoy.